Vang Pao: A Forgotten Warrior and Ally
Ronald E. Yates is an author of award-winning historical fiction and action/adventure novels, including the popular and highly-acclaimed Finding Billy Battles trilogy.
In 2011 I wrote a story about Vang Pao, a Hmong guerilla leader who led the CIA's "Secret Army" in Laos. Vang Pao had just passed away and I thought it was important to tell Americans just who this fiercely loyal man was and what he did to help the American war effort in Vietnam. Here it is again, lest we forget.
Few, if any Americans today know who Vang Pao was. That is a shame, because America probably had no greater ally during the Vietnam War than the Napoleon-sized Vang Pao.
General Vang Pao
Vang Pao, who died this week in Clovis, California, was the leader of the CIA's so-called "Secret Army" in Laos–a force of some 100,000 Hmong (pronounced "Mung") guerrillas that between 1960 and 1975 kept four crack Vietnamese divisions tied down in the Laotian Highlands north of the Plain of Jars and off the backs of American troops fighting in Vietnam.
The cost of the Hmong's 15-year alliance with America was substantial. More than 30,000 out of a population of 350,000 were killed. An equivalent casualty rate in the United States would be a war in which 20 million Americans died.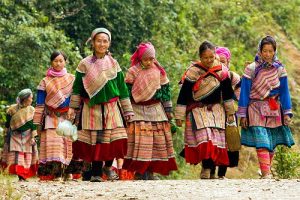 Hmong Women
Even though the alliance officially ended in 1975 when the last Americans were ignominiously run out of Saigon by advancing North Vietnamese troops, the Hmong continued to die because of their once close association with Washington.
At the time of my visit to the Hmong refugee camps during my tenure as a foreign correspondent for the Chicago Tribune, I learned from Hmong survivors that the Laotian hill people were being systematically exterminated by both the North Vietnamese and the Communist Pathet Lao government.
General Vang Pao and a force of 18,000 Hmong fighters were finally forced from Laos in May 1975 by