Tribute to a Vietnamese Patriot
Ronald E. Yates is an author of award-winning historical fiction and action/adventure novels, including the popular and highly-acclaimed Finding Billy Battles trilogy.
Nguyen Cao Ky, the former Air Marshal and Premier of Vietnam passed away six years ago this month. I got to know Ky during the final days of the war in 1974-75 when the North Vietnamese were rolling south almost unimpeded. Eventually, they encircled Saigon and thousands of Vietnamese, including Ky, fled their homeland. It was a bitter pill for Ky to swallow, but even he could see the end was inevitable. I posted the following story about Ky the week that he died. I am reposting it today as an anniversary tribute.
When I heard the news of former Vietnamese Premier and Air Marshal Nguyen Cao Ky's death, I was immediately whisked back to Saigon about a month before it fell to the Communist North Vietnamese in April 1975.
It was March 27, and I had gone to visit Ky at his sprawling home on Saigon's Tan Son Nhut air base.
He greeted me wearing the black pilot's flight suit and purple scarf he liked to be seen in. I had never met Ky before, but I had heard a lot about him. Stories said he was a swash-buckling "Top Gun" kind of guy who never backed down from a fight and had a reputation as a womanizer.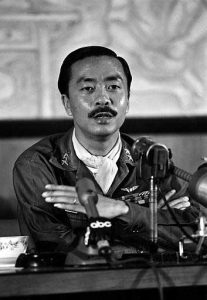 Nguyen Cao Ky
He may have been all of those things, but the day I met him he was pensive and worried about the future of his country–as well he should have been. North Vietnamese troops were less than 50 miles from Saigon and every day they were pushing South Vietnamese forces further south.
For those unfamiliar with America's war in Vietnam, Ky was a staunch American ally during that conflict. But even more than that, he was a combat pilot who eventually became the head of Vietnam's Air Force