Journalistic Method: Observation Techniques for Authors (Part 1)
Ronald E. Yates is an author of award-winning historical fiction and action/adventure novels, including the popular and highly-acclaimed Finding Billy Battles trilogy.
Without doubt, one of the best places to learn the craft of writing is in the professional newsroom.
The number of successful authors of fiction and non-fiction books, who began their careers as journalists, is remarkable. Here is a list of 10 (It could be 50 or 100):
Charles Dickens
Samuel Clements (Mark Twain)
Ken Follett
Thomas Thompson
Ernest Hemingway
Edna Buchanan
George Orwell
Graham Greene
PG Wodehouse
Tom Wolfe
Someone once asked Ernest Hemingway where he learned to write. His answer: working as a general assignment reporter for the Kansas City Star from 1917 to 1918.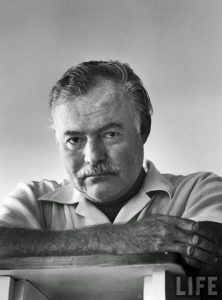 Ernest Hemingway
"Everything I needed to know about writing I learned from the Kansas City Star style sheet," Hemingway once said.
The first paragraph of that style sheet reflects Hemingway's writing style. It begins: "Use short sentences. Use short first paragraphs. Use vigorous English. Be positive, not negative."
The advice may seem simplistic, but it is far from it. One of the first things I learned as a young journalist (coincidentally, at the Kansas City Star) was how to write succinctly and clearly and how to gather information accurately.
Hemingway did all of those things–and he did them well, both as a journalist and later as a Nobel Prize winning novelist.
Not far behind those skills is something called Journalistic Method. That is a fancy phrase for how a journalist works.
That is what I want to talk about today. In parts 2 and 3 of my blog on Journalistic Method I will get into some of the other skill sets such as the aforementioned ability to write succinctly and clearly, how to gather information accurately, and how to organize it and present it in a compelling way. Those who write novels can learn a lot from the skills required to produce excellent