Journalism's Dangerous Shift from Impartiality to Advocacy
Ronald E. Yates is an author of award-winning historical fiction and action/adventure novels, including the popular and highly-acclaimed Finding Billy Battles trilogy.
Those of us who have been in the news business for more than a few years (for me it's more than 30 years) have learned a hard truth in the past decade or so: There has been a palpable shifting of the lines between what we learned journalism ideally should be and what it has become.
Coming as I did as a neophyte into the cavernous news room of the Chicago Tribune back in 1969 right out of college, I had editors who made sure that I didn't stray from accurate, evenhanded and unbiased reporting into opinion and rumor. When I did, I heard about it from some crabby City Editor.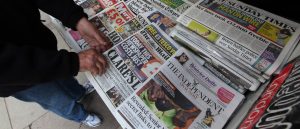 An even worse sin at the Tribune was the sin of omission. That occurred if you took it upon yourself NOT to report something because doing so might not coincide with YOUR interpretation of the event or your political predilection.
"The only thing worse than writing a story filled with mistakes and lies is to ignore and bury a story because it violates your viewpoints," a Tribune editor once chided a fellow reporter. "That's like a doctor withholding life-saving medicine from a patient he may not like."
That's what happened last week when most of the media decided to ignore the story about Imran Awan, a Pakistani IT staffer who worked for several House Democrats including Rep. Debbie Wasserman Schultz. Awan is allegedly at the center of a scheme that involved double-charging the House for IT equipment, and may also have exposed secret House information online.
The Daily Caller reported for months that Awan and his family provided I.T. services to not just Wasserman Schultz but 80 prominent congressional Democrats across key committees such as the House Intelligence Committee. It also found that Awan and his brother secretly took
Read more