JOIN AUTHOR GWEN PLANO ON THE RWISA BLOG HOP
Ronald E. Yates is an author of award-winning historical fiction and action/adventure novels, including the popular and highly-acclaimed Finding Billy Battles trilogy.
Welcome to ForeignCorrespondent. Today it is my pleasure to introduce Gwen Plano, a member of the Rave Writers International Society of Authors, an organization of professional award-winning authors. Gwen is the author of Letting Go Into Perfect Love and is one of 19 authors on the RWISA's inaugural Blog Hop which began Monday, Feb. 13 and which continues today and through Saturday. Join Gwen as she talks about the writing life, its challenges, and its rewards. Hop On & Enjoy!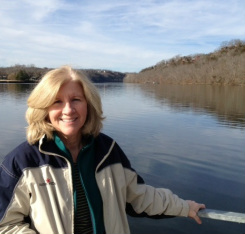 Q & A With Gwen 
How long have you been writing?
As a child, I wrote stories and shared them with my siblings. During my professional years, however, I mostly wrote reports, newsletters and otherwise kept personal journals. I now write at will because I am retired.
How many books have you authored? Please give us up to 3 titles?
I published my first book in 1998: Beyond Boundaries: Student Volunteers in the Developing World. It was written for college students enrolled in Jesuit universities, where volunteerism is strongly encouraged, and it was never on Amazon. My second book, Letting Go into Perfect Love, was published in 2014.
Do you have a writing schedule?
My most productive time of the day is early morning. I'm typically at my desk by 4:00 am. By 5:00 pm, I'm ready for a glass of wine.
You're a member of RAVE WRITERS – INTERNATIONAL SOCIETY OF AUTHORS (RWISA). Why do you think you were accepted into this exclusive group?
I suspect I was accepted because I am a careful writer, attentive to the craft itself. I am alert to grammar, as it can spotlight or undermine the story. And, I love words – their power when carefully placed, their beauty when used effectively, their sound on the page. When I write, I