Is the American Empire Collapsing? (Part II)
Ronald E. Yates is an author of award-winning historical fiction and action/adventure novels, including the popular and highly-acclaimed Finding Billy Battles trilogy.
Most Americans, I believe, would prefer to think of China as a friendly nation with a different political and economic perspective of the world.
While the U.S. remains committed to a freewheeling form of capitalism and a democratic system of government where power (for the most part) is lodged with an informed (one hopes) citizenry, China remains a largely closed society with a political system ruled by an elite Communist politburo that prefers to manage the nation's economy and control access to information.
True, both countries seem to be benefiting from two-way trade, though the Chinese are expected to have a $350 billion trade surplus with the U.S. in 2017. Meanwhile, U.S. consumers are told they are benefitting because they are buying products made in China for much less than what they would cost if made in the USA.
The problem is, while Americans might like to think of China as a friendly nation, it is becoming increasingly harder to do given China's recent behavior.
First, there is China's reluctance to reign in North Korea–a client state that remains a buffer to non-Communist South Korea and the American military presence on the Korean Peninsula. One wonders how many more ICBM missiles must fly over Japan before China finally decides to rap Kim Jung Un's fat little knuckles. Perhaps when one of those missiles inadvertently slams into Manchuria.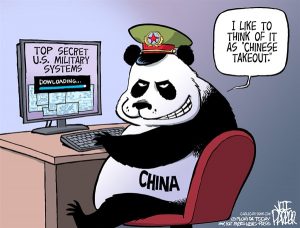 Then there is what appears to be China's secret cyber war against the United States. Not long ago, for example, the Internet security firm McAfee revealed a widespread attack against 72 organizations, including the United Nations, U.S. defense contractors and several other corporations in what a McAfee executive called "the biggest transfer of wealth regarding intellectual property in history."
It didn't stop there. More recently some 48 chemical and defense companies were victims