Dealing With the Dreaded Rejection Letter
Ronald E. Yates is an author of award-winning historical fiction and action/adventure novels, including the popular and highly-acclaimed Finding Billy Battles trilogy.
If there is one thing most authors have in common, besides the shear agony that sometimes accompanies the writing process, it is the dreaded Rejection Letter from an agent or publisher.
I don't know who got this one from Harlequin, but it had to be devastating to the person receiving it.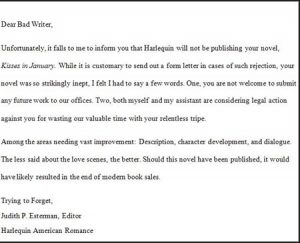 I have received a few rejection letters–though none like the one from Harlequin.
Most authors–even wildly successful authors–have also received their share of rejection missives.
Don't believe me?
Just take a look at this list of rejection letters that were sent by publishers and agents to world-renowned, Nobel and Pulitzer Prize winning authors. It is simply part of the creative process and you need to keep moving ahead–just as these authors did.
—"The American public is not interested in China," a publisher wrote Pearl S. Buck. Her book The Good Earth becomes the best-selling US novel two years running in 1931/32, and wins The Pulitzer Prize in the process.
—Alex Haley writes for eight years and receives 200 consecutive rejections from publishers and agents. His novel Roots becomes a publishing sensation, selling 1.5 million copies in its first seven months of release, and going on to sell 8 million.
—"He hasn't got a future as a writer," a publisher opines. Yet, publication of The Spy Who Came in From the Cold leads to its author, John le Carré, having one of the most distinguished careers in literary history.
—"Hopelessly bogged down and unreadable," a publisher tells Ursula K. Le Guin in a 1968 rejection letter. She was not deterred and her book The Left Hand of Darkness goes on to become just the first of her many best-sellers, and is now regularly voted as the second best fantasy novel of all time, next