Coming this Summer: Book #3 in the Finding Billy Battles Trilogy
Ronald E. Yates is an author of award-winning historical fiction and action/adventure novels, including the popular and highly-acclaimed Finding Billy Battles trilogy.
During the past couple of months, I have received frequent inquiries from readers who ask when Book #3 (Working Title: "The Lost Years of Billy Battles") will be available.
First, let me thank those faithful fans of the Finding Billy Battles Trilogy for their interest and encouragement.­ Your support means a lot as I trudge ahead writing this last chapter in Billy's long and astounding life.
All I can tell you at this point is that I am about sixty percent finished with Book #3 and my objective is to have the book finished and published late this summer.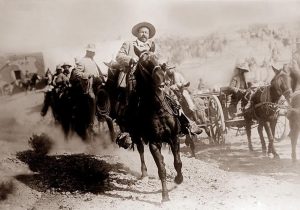 As to the story, without giving away too much, I can tell you Billy and Katharina have some harrowing adventures in Mexico during that country's bloody revolution. Later, some horrific events cause Billy to vanish. What happened? Why did he disappear? Where did he go? How long was he gone?
Those are questions you will find the answers to in "The Lost Years of Billy Battles," the final book in the Finding Billy Battles Trilogy.
In the meantime, stay tuned for periodic updates, information on pre-publication orders, and how to receive signed copies.
Read more