Announcing the re-launch of My GRL
Ronald E. Yates is an author of award-winning historical fiction and action/adventure novels, including the popular and highly-acclaimed Finding Billy Battles trilogy.
Today I am pleased to provide a platform for the re-launch of fellow author John W. Howell's My GRL, the first book in the John J. Cannon thriller series. Following the re-launch information, there is a fascinating interview with the author. Take a look. Ron Yates
The cover is new, and the book is edited once again to enhance the reading experience. What is nice is the price. It has been cut for the re-launch. You can buy the Kindle version for a special introductory price of:
$0.99
Synopsis of My GRL
John J. Cannon, a successful San Francisco lawyer, takes a well-deserved leave of absence from the firm and buys a boat he names My GRL. He is unaware that his newly purchased boat had already been targeted by a terrorist group. John's first inkling of a problem is when he wakes up in the hospital where he learns he was found unconscious next to the dead body of the young woman who sold him the boat in the first place. John now stands between the terrorists and the success of their mission.
Here is the link to Amazon for the Kindle version
Here is the link to Amazon for the Paper version
Check them out and read the first few pages on Amazon.
Also, you can check out John Cannon's other two adventures, as well as, the new My GRL at John W. Howell's Author Page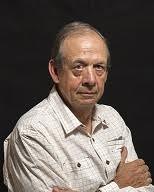 John W. Howell
 Author Bio
John W. Howell began writing full-time after an extensive business career. His specialty is thriller fiction novels, but John also writes poetry and short stories.  His first book, My GRL, introduces the exciting adventures of the book's central character, John J. Cannon. The second Cannon novel, His Revenge, continues the adventure, while the final