An Uncommon Love of Words & Writing
Ronald E. Yates is an author of award-winning historical fiction and action/adventure novels, including the popular and highly-acclaimed Finding Billy Battles trilogy.
A while back a friend sent me an excellent column about a professor at my alma mater: the William Allen White School of Journalism at the University of Kansas.
The professor's name was John Bremner, a native of Australia and ordained Catholic priest who left the priesthood to become a journalist. ("Proof that purgatory exists," he once told me.)
While I never had the late Professor Bremner (he died in 1987) for a class, he made his presence known in the newsroom of the University Daily Kansan where I was the editor-in-chief. He often would stick his head in the door of my office and say something like: "Good paper today, Ron."
Those were the days I liked. But all too often I heard things like:
"The lead story on page one makes about as much sense as a wallaby giving a sermon," which was Prof. Bremner's way of saying it made no sense at all!
Professor Bremner was a stickler for the proper use of the English language. He could get especially cranky when people who make their livings using it every day, such as journalists, misused the lingua franca.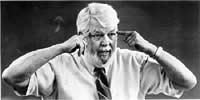 Prof. John Bremner
In the introduction of his seminal book "Words on Words," published in 1980, John Bremner had this to say about language:
"Words are my professional life. It was nurtured by the study of classical and modern languages, which was part of the characteristic education of my generation, at least in my native Australia. Unfortunately, such education has become uncharacteristic, especially in the United States. I have witnessed the steady growth of literary ignorance during a career of more than a third of a century as a professional journalist, a professor of journalism and a newspaper consultant."
He goes on to say: "Many of my students