I Am My Hat
I have been a writer for most of my life. Or, maybe I've been a storyteller. It's hard to know for sure. In the fifth grade, a poem, my first published work, Ethan Allen and the Green Boys, appeared in the school newspaper.
A Short Story by Howard Feigenbaum
I Am My Hat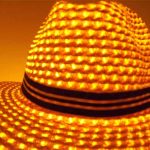 The meaning of appearance came to me one day in childhood. My mother allowed me to pick my clothes. A new world dawned. I could look like the people I admired. And the colors—hoo-hah! The combinations of red, blue and green were endless, and I was
the canvas. The gates guarding the entrance of the path to free will had swung open.
Of the choices available, I found the hat, above all else, the most expressive piece of clothing. In a matter of seconds, my image was transformed. The symbolic shift rested on my head for the world to see. My mind adjusted.
My first encounter with a hat was in my infancy. An aging photograph showed me wearing a wool hat my grandmother knitted in advance of my arrival into the world. This hardworking woman, who had an indentation in her right index finger from years of knitting needles resting on that spot, did what she knew best to show her love. There it was, her love, enveloping my head, protecting me from the cold Catskill winter.
The next significant hat in my life was the cowboy hat—the heroic good guy hat, not the bad guy hat. Cowboys helped people. I wanted to be one of them. They were brave. They cared about their horses. With the hat on my head, I was.
When I think about my cowboy period, I realize that an understanding of the basics of morality drew me to the mythic figure. Even now, I wouldn't mind being a cowboy. Of course, I would need a hand getting into the saddle.
My love for cowboys led me to the first crisis in my young life. Mom arranged for my sister and me to take