The Awful English Language
Ronald E. Yates is an author of award-winning historical fiction and action/adventure novels, including the popular and highly-acclaimed Finding Billy Battles trilogy.
Let's face it, Americans are notoriously inept when it comes to learning other languages. Unlike Europe, where many people speak several languages because dozens of nations with distinct tongues adjoin one another, the United States only has Canada to the North and Mexico to the South.
Spanish is the second most widely spoken language in the United States. So you would think it would make sense for us to learn Spanish. But how many of us have taken Spanish classes in high school (or even college) and can manage only such phrases as "Una Cerveza mas por favor" (one more beer, please) or "¿Como te llamas?" (What's your name?)?
Then there is Canada—an English speaking country, except for those French-speaking diehard traditionalists in places like Montreal. Okay, some Americans may argue that Canadians speak English weirdly, as in aboot rather than about and uutside rather than outside.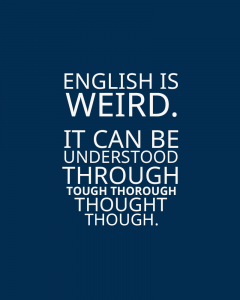 Nonetheless, Americans can travel to Canada and get along just fine without worrying about a significant language barrier. Cultural barriers are another matter, but I won't go into those here.
Centuries ago, I took high school French, and I think the only phrase I still recall is: "Comment allez-vous aujourd'hui?" (How are you today?).
Later in life, I learned German, but only because I was based for almost three years in a small Bavarian town in a signals intelligence detachment, married a German woman, and minored in German at the University of Kansas. Later, I learned Japanese while living there almost ten years as a foreign correspondent for the Chicago Tribune.
And that brings me to the purpose of this post. When I was teaching journalism as a professor at the University of Illinois, I used to spend part of a class talking about what I called "The Awful English Language."
We