Is American Journalism Dead, or in a Coma?
Ronald E. Yates is an author of award-winning historical fiction and action/adventure novels, including the popular and highly-acclaimed Finding Billy Battles trilogy.
We are hearing a lot today about the deplorable state of American journalism. Some, including former Arkansas Governor Mike Huckabee and Fox pundit Sean Hannity, have even declared journalism "dead" in America.
"Journalism that I grew up with that was focused on facts, has given way to advocacy today," Huckabee said during a recent interview.
Sadly, I think he is correct. The journalism that I grew up with and that I practiced at the Chicago Tribune from 1969 to the mid-1990s is definitely not the same journalism I see today.
Look at these recent "stories" that made headlines worldwide:
President Trump gives Chief of Staff Reince Priebus "until July 4th to clean up White House." Trump adviser Kellyanne Conway "is caught mocking Trump staffers." Trump tells U.K. Prime Minister Theresa May he won't go to Britain "until the British public supports him coming."
What do all of these stories have in common? They're completely unsourced. No names. No real people. Just claims that come from, in order, "two administration officials and three outside advisers familiar with the matter," an anonymous tweeter who set up a dummy Twitter account, and "a Downing Street adviser."
None of the stories has anyone on the record making the accusations. Instead, the "news" sites that posted the stories — Politico, the Daily Mail and the Guardian — simply make the claims and cite anonymous sources. The subjects of the anonymous slurs have no recourse whatsoever, no right to face their accusers, no way to fight back. The accusation streams out onto the internet, where it lives forever — whether it's true or not.
Google "White House shake up, " and you get more than forty thousand stories — every one of them false. Has there been a shake-up? No.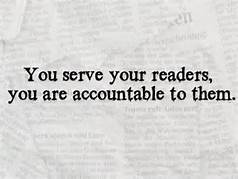 This is NOT journalism. This is